Multihead Weigher Features
We has gained rich experience in the packing machinery field and has many mature technologies. So far, many multihead weigher series have been
successfully developed to achieve the optimal matching of automatic weighing machines and packaging machines. It is widely used in Food,
Beverage, Pharmaceutical ,Chemical, Hardware accessories and other industries.
Multihead Weigher Main Features

1. Special sensors with high precision and high standard are adopted.
2. Intelligent multi-sampling stable mode, more accurate weighing.
3. Intelligent fault alarm prompt, more convenient maintenance.
4. High-speed asynchronous discharging function, effectively prevent material blocking.
5. New high integration modular design, using CAN bus technology.
6. Other features of the same generation of models.
Multihead Weigher Standard Feature
1. Plain stainless steel 304 construction for products touching parts.
2.Tool-less product touching parts removal for easy cleaning.
3. Intelligent parameters setting up through interactive touch screen HMI.
4.100 groups of presetting parameter functions allow programming different target
weight and feeder control conditions, quick recall, and product settings.
5. High precise load cell and modular stepper motor actuator units.
6. Individual amplitude adjustment for each linear pan.
Multihead Weigher Optional Features
1. Single or double door buckets.
2. Rotating & Vibrating top cone.
3. Counting function.
4. Special timing discharge hopper.
5. Embossed stainless steel 304 for product touching parts.
6. Multi Dump.
Multihead Weigher Details
It is applicable for weighing of solidity products by way of combination mode, subject to special customization, apply for the products like snacks, meat, poultry, ready meals, salads, confectionery, biscuits, bakery, cereals, nuts, pasta, frozen foods, dried foods, pet foods, and other non-food products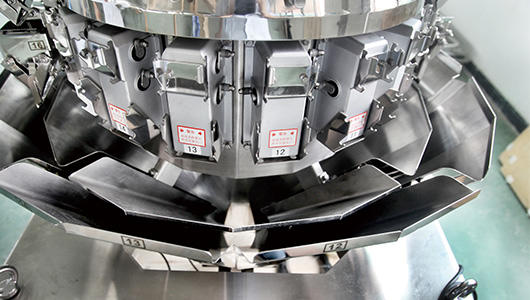 Precision bag former & touch screen, digital screen display with numerical setting and flexible operation; PLC control system and color touching screen, easy operation; PID independent control of temperature, more suitable for different packaging material. It is suitable for weighing granules, slicing, roll, or irregular shape materials such as candy, seed, jelly, fries, coffee granule, peanut, puffy food, biscuit, chocolate, nut, chips, pet food, frozen foods, etc. It is also suitable for weighing small hardware and plastic component.
Kenwei multihead weighing machines (also referred to as circular/combination weighers) are applied in various fields thanks to their superior weighing accuracy and efficiency. These weighers satisfy the dosing, weighing, and packing requirements for nearly any product type. You will find multihead weighing machines used in the production and processing of fruits, vegetables, hardware products, medicine, snacks, dried foods, baked goods, and much more.
Kenwei produces multihead weighers with 10, 14, 16, and 32 lanes, they are applied in various fields thanks to their superior weighing accuracy and efficiency. These weighers satisfy the dosing, weighing, and packing requirements for nearly any product type.
It is the preferred equipment to achieve production automation and improve production efficiency. At present, the products are exported to Europe, America, Middle East, Southeast Asia, Africa and other parts of the world, and are deeply trusted and praised by users.We not only provide customers with high quality and reliable products, but also design and manufacture packaging equipment according to their actual requirements, provide packaging overall solutions, undertake various standard packaging machine OEM business, and provide professional technical service support for customers. To create greater value for customers.
Guangdong Kenwei Intellectualized Machinery Co.,LTD. is an advanced enterprise integrating development, manufacturing and sales. We mainly deal in weighing and pacaging and its auxiliary machinery for food and non-food industries, including various automatic and multi-function multi head weigher, vertical packaging machines, check weighers,food metal detector and many more. At the same time, we provide packaging solutions for our customers. We Focus Machinery was established in 2005, located in Fusha Town, Zhongshan City, Guangdong Province, China, covering an area of about 21,000 square meters, with an annual production of more than 5,000 multi-head weigher.
Do not allow emptyDo not allow emptyDo not allow emptyPlease enter a valid e-mail formatPlease enter a value greater than or equal to %sPlease enter a valid numberPlease enter a value