Multihead weigher is also known as computer combination weigher, is the special equipment for intelligent quantitative weighing and counting, and it is also a core component of an automated packaging system. Using it can greatly improve production efficiency, reduce material waste, and greatly improve the economic benefits of production enterprises. As quantitative weighing equipment, it has the characteristics of high precision and high speed. The multihead weigher has many models and a wide range of applications. The number of weighing hoppers of different models is different, and the applicable products are also different. Guangdong Kenwei Intellectualized Machinery Co., Ltd, as a manufacturing enterprise with 16 years of professional manufacturing experience in multi-head weigher, has an annual output of more than 7,000 sets. The products include standard models, special models, customized models, it is widely used in the food industry, hardware industry, pharmaceutical industry, chemical industry, and other industries.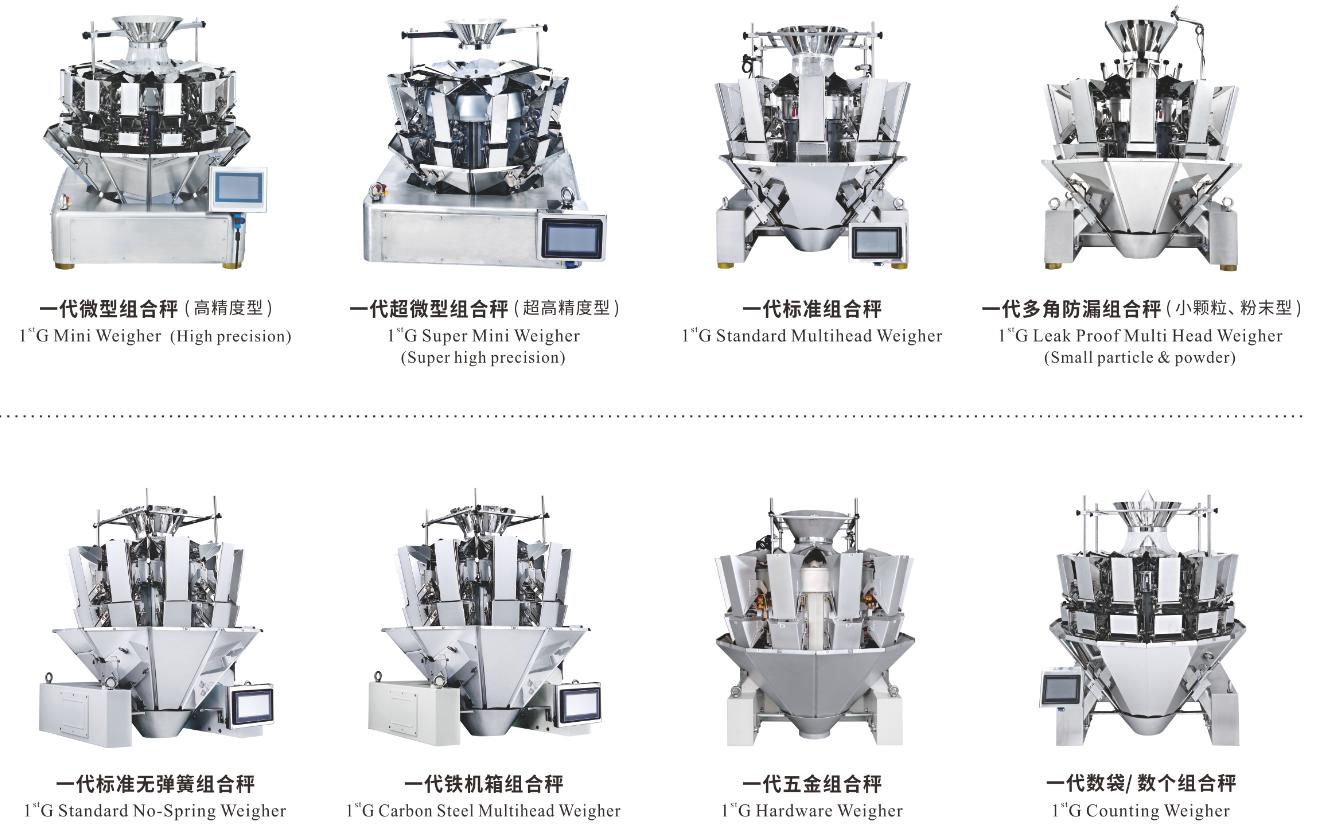 Application one   
It is suitable for weighing ultra-high precision materials such as powder, small particles, etc, which are relatively uniform and have good material fluidity.   
Such as Chinese medicine tablets, tea, seeds, glutamate, chicken essence, coffee beans, chocolate beans, sugar, flour, rice and other grains, soybeans, and other beans.

Application Two  
It is suitable for weighing various granular, flake, strip, round, and irregular shape materials   
Such as:Candy,melon seeds,pet food,puffed food,pistachios,peanuts,nuts,almonds,raisins and other snack foods,large shell nuts,hardware,plastic particles,etc.

Application Three  
It is suitable for weighing all kinds of soft sticky materials with water, sticky materials with poor fluidity and cubes, stems, leaves, and other vegetable products with poor fluidity and slight stickiness.   
Such as:QQ candy,marshmallow,cheese,jelly,frozen meatballs,vegetables,vegetables salad,fruit salad,tomatoes,cherry tomatoes,various meats,pickles,screws,etc.

Application Four
It is suitable for weighing long soft materials, the longest is no more than 300mm.
Such as:noodles,rice noodles,bean sprouts,sausages,spicy noodles,large gluten,vegetarian beef,tendon,sausages,finger biscuits,long biscuits,chopsticks,pencils,etc.   


Application Five  
It is suitable for weighing frozen foods.   
Such as various frozen materials such as shrimps, dumplings, glutinous rice balls, fish pieces, fruit slices, squid rings, etc.   

Application Six  
It is suitable for weighing various materials with higher requirements for waterproofing, and the waterproof level is IP66   
Such as all kinds of frozen foods, salads, cooked foods, etc.

Application Seven  
It is suitable for weighing various fragile materials that need to maintain the integrity of the materials.   
Such as:fresh fruit,ice cubes,thin biscuits,peanuts,etc.

Application Eight   
It is suitable for formula mixing of various materials and high-speed weighing of small metering formula mixtures of granular materials with good fluidity.
Such as mixed nuts, mixed tea, mixed grains,eight-treasure porridge, seeds, sesame, peanuts, pepper and other condiments, tea, Chinese herbal medicine, rice and other cereals, soybeans, and other beans.