The development of the global economy, changes in social life rhythm and family patterns, and changes in food structure have led to the rapid development of the frozen food industry. The annual rate of increase is 25%, and the per capita annual consumption is close to 10 kilograms. With the continuous popularization of frozen food, higher requirements are also put forward for the packaging technology of frozen food.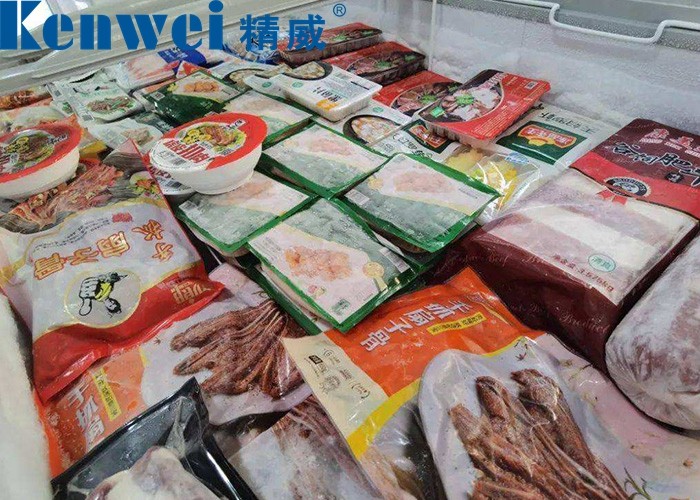 The basic function of frozen food packaging is to maintain the quality characteristics of the product from production, and transportation to sales, prevent bacterial contamination, and be convenient to eat. At present, the packaging form of frozen food is mainly plastic film-based flexible packaging, and the corresponding packaging equipment is the more mature multihead weigher, vertical form fill seal machine, rotary bag packaging machine, and so on.
Let's take the packaging solution of frozen duck wings designed by Guangdong Kenwei to understand how the upgrade of automatic food packing equipment brings efficient and convenient improvements to the development of the frozen food industry: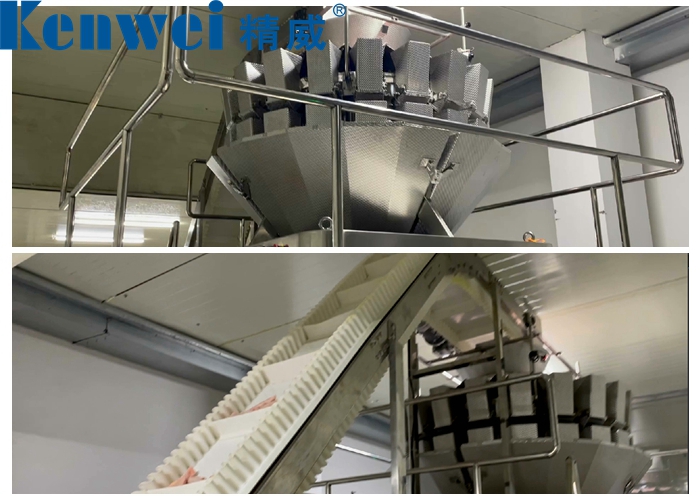 The system consists of Kenwei intelligent customized high-speed 20-head computerized multi-head weigher as the main body of measurement, equipped with a rotary bag-feeding packaging machine, automatic bagging and heat-sealing, which can adapt to various types of plastic film packaging bags from customers, and at the same time, quantitative detection points are added in the latter part. Check weigher, ensure food packaging safety standards, and ensure customer production efficiency.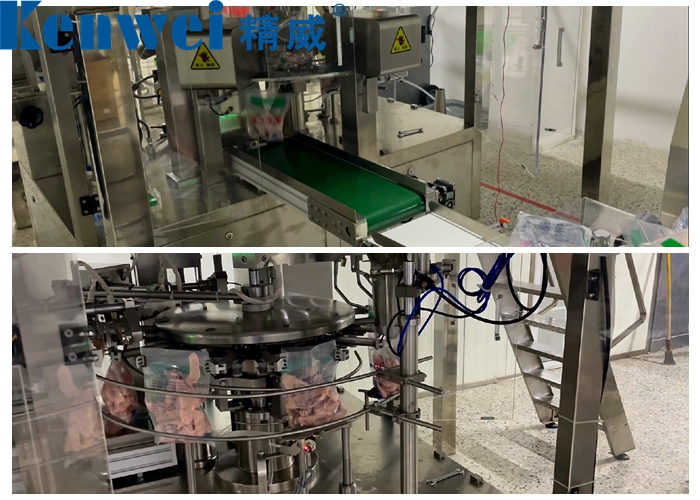 Its multi-functional characteristics are suitable for mixing/high-speed weighing processing of multiple or single granular and block materials, such as food, hardware, plastic parts, and other materials. Customized pattern hopper, internal high-grade waterproof structure, and other configurations can be applied to harsh production conditions, such as the humid and low-temperature workshop environment and frozen food in this solution.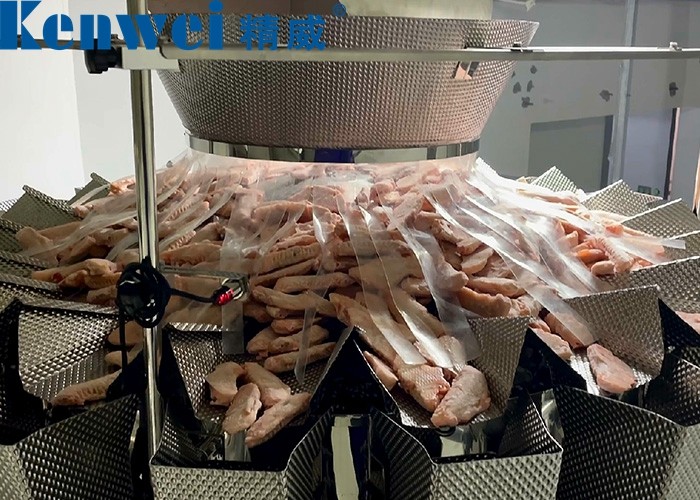 IP65 cabinet design, dimple plate for food contact parts.
An Air pressure system built-in cabinet prevents the electronic components from being damaged because of humidity.
The use of stainless steel to thicken the overall middle seat enhances the sealing performance.
The independent main vibration machine is used to control the feeding thickness of different materials respectively.
The integral chassis and middle seat enhance the rigidity and strength of the machine, making the weighing more accurate.
VIDEO:https://www.kenweigh.com/500g-frozen-duck-feet-20-head-combination-scale
Frozen food packaging has received more attention as an important means to ensure the safety and hygiene of frozen food, and the corresponding frozen food packaging equipment and packaging testing equipment need more improvement and innovation. As a leader in the weighing and packaging industry, Guangdong Kenwei has been focusing on responding to the continuous development of the food market for 16 years, creatively combining the various needs of customers, and providing food merchants with more efficient and low-cost multi-head combination weigher, linear weigher, and check weigher. And all kinds of packaging-related equipment to help businesses develop steadily.