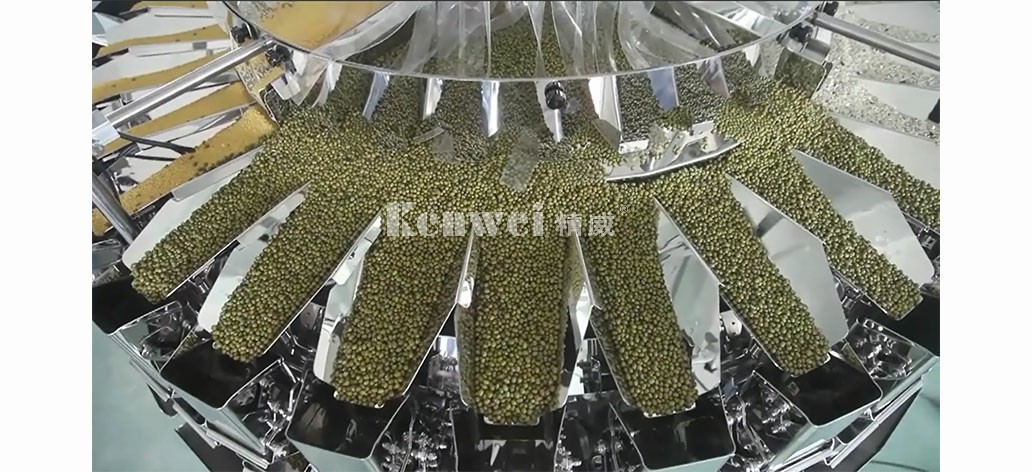 Rizhao rongxin granule product packaging, each big bag to load a total of four different products, the combined weight of 1200g, 300g, 15g, 5g and so on. At present, the factory mainly USES manual weighing packaging and sealing, which is slow and has a large number of personnel and is not suitable for modern production management. Therefore, Guangdong Kenwei Intellectualized Machinery Co.,Ltd.,has designed a set of rapid and accurate automatic quantitative weighing and packing system for mixed materials: vertical conveyor , multihead weigher, PLC ,platform , packaging machine and check weigher.
Now ,we talk about the operation principle . Vertical conveyor will ascend to the seafood storage hopper multihead weigher, the hoist by combined balance control, photoelectric detector detects when the storage hopper did let it run, stop when full of material hoist.
Multihead weigher: Kenwei adopts digital weighing sensor, Chinese display menu is intuitive and easy to operate, the multihead weigher belongs to the world's most advanced quantitative weighing equipment, because one product requires a single weighing of 1200g, must use 14 heads multihead weigher, the other three use 10 heads multihead weigher.
PLC aggregate control system: composed of aggregate hopper and controller. On the one hand, several multihead weigher are controlled. Because each multihead weigher has different weights and different cutting speed, a control mechanism is needed to control the storage and discharging of several multihead weigher.
Vertical packaging machine is total with stainless steel and Double belt pulley bag and Mitsubishi programmable PLC and servo controller and Reel film self-made bag,touch screen.When the machine receive order send by timing controller,the material fell into bag and packaging machine seal it and send a sign to timing controller and next work circle.
Platform:platform is made of stainless steel.which is shockproof, swaying and easy to clean and maintain.
Check weigher: Effectively control the overweight product and ensure the qualify products.
According to the test, we know the data:the set of system speed is 35~50 P/M,accuracy system speed:±0.1~0.5%,working voltage:380V、220V,and Power above 4kw. What material is the system made of?
a. vertical conveyor:belt:PT Other:stainless steel welding
b.top cone pan and linear pan are made of stainless steel,frame is made of stainless steel.
c. Hopper is made of stainless steel
d. Platform is made of stainless steel
e. standing packaging machine is made of stainless steel
The new system can save Rongxin nearly 30-50 labor costs per year, temporary depreciation for 10 years, 300-500 labor costs for 10 years, 15-25 tons of materials per year (according to two shifts 16 hours per day, 300 days per year) .
Guangdong Kenwei Intellectualized Machinery Co.,LTD. is the first company in China to win the honor of "Guangdong Province Industry-University-Research Science and Technology Project Combination Award" in the field of multihead weighers; Kenwei attaches great importance to R&D and has a strong R&D strength in the industry; Kenwei has a tradition of cooperation with scientific research institutes. In 2011, Kenwei won the award of Guangdong Science and Technology Ministry for "mixing and cutting materials with various materials and formulas".Kenwei has a high market share in the field of "mixing and cutting of various materials".