In order to further strengthen the company's internal communication, on October 19, 2020, Guangdong Kenwei Intellectualized Machinery Co., Ltd. established a "General Manager Suggestion Box".   
As a current international scale, wide influence of multi-head weigher manufacturer, Guangdong Kenwei has more than 14 years of professional experience in manufacturing R & D, with an annual output of more than 7,000 sets of the weigher. The establishment of "General Manager suggestion box" designed to improve the communication channels open and general manager and employee; encourage employees to find system management service problems, and promote the issue can be resolved in time or encourage employees to participate in the construction and management of the company Innovate, supervise and propose construction in various fields of the company operation and management.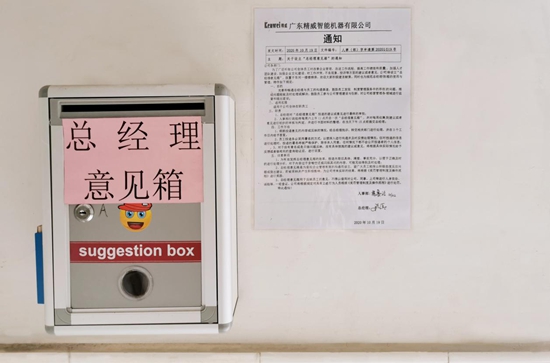 In order to give full play to the bridge role of the "General Manager Suggestion Box", the human resources department of the company will be responsible for opening the "General Manager Suggestion Box" once a week and organize written suggestions or opinions collected every week, according to the content of the submitted opinions or reflected The situation, after the general manager's instructions, will be transferred to relevant departments for processing, and follow-up supervision, timely feedback, and announcements. During the entire implementation process, employees who put forward opinions and suggestions will be kept strictly confidential.   
The opening of the "General Manager Suggestion Box" has established a communication bridge between company leaders and employees, enhanced the sense of ownership of all employees in participating in corporate management, and provided a convenient and effective communication platform for employees to participate in company development and make reasonable suggestions. The "General Manager Suggestion Box" is not only an important way for all employees to participate in and supervise the company's management affairs but also a driving force for the company to obtain better development.