Hi, guys, I'm York, nice to meet you. Today I will introduce some of our products' detail. Hope they will help you.
First of all, is our standard multihead weigher. This is 10/14 head, It is suitable for weighing regular material, such as candy, seeds, jelly, pet foods, puffy foods, peanuts, nuts, and big shell nuts, hardware, dried fruits, snack foods, and so on.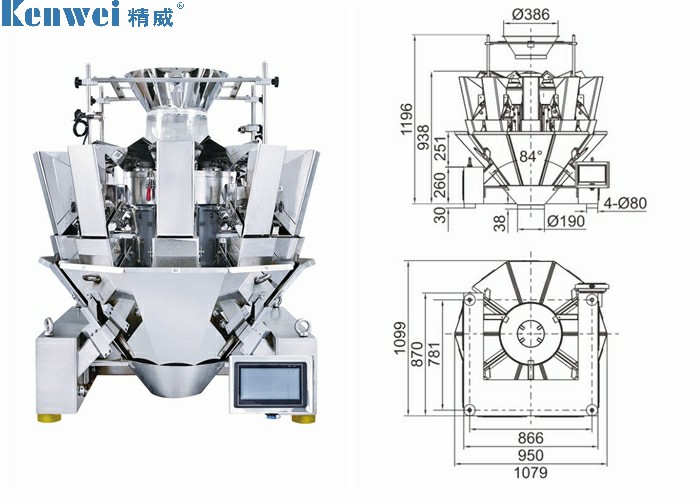 1. Upper funnel, standard will be 4 support post, if you think 2 is good enough, we can make it 2, will be chipper, but 4 is better, more stable.
2. Main vibrator pan and linear vibrator pans, easy to disassemble, our machines are all easy to install and disassemble, but very stable and strong. Linear amplitude can be adjusted independently in the running.
3. Those are 1.6-liter hoppers, the standard will be 1.6 and 2.5 liters, it's your choice, hoppers are also easy to disassemble and clean.
4. This is an actuator, we also call it Aluminum box, there are load cells inside, and please noted we all using high precision and high standard load cells, HBM load cell from Germany, or Minebea from Japan.
5. 7 inch Screen, max speed of 10 head will be 65 pack/minute, 14 head is 120, Accuracy is 0.5 gram to 1 gram. No product auto-pause function. 35 languages available for global markets.
Model

JW-A10

JW-A12

JW-A14

JW-AM10

JW-AM14

JW-A10

JW-A14

Identify Code

A10-1-1

A12-1-1

A14-1-1

AM10-1-1

AM14-1-1

A10-1-3

A14-1-3

Weighing Range

10-1000g

10-1500g

10-1500g

100-3000g

100-3000g

10-1000g

10-1500g

Accuracy

X(0.5)

X(0.5)

X(0.5)

X(1)

X(1)

X(0.5)

X(0.5)

Max Speed

65P/M

100P/M

120P/M

50P/M

80P/M

60P/M

100P/M

Hopper Volume

1.6/2.5L

5L

1.6L(No-spring)

Control Panel

7''Touch Screen

Options

Dimple Plate/Timing Hopper/Printer/Reject Device

Driving System

Step Motor

Power Requirement

220V/1000W/50/60Hz/10A

220V/1200W/50/60Hz/10A

220V/1500W/50/60Hz/10A

220V/1500W/50/60HZ/10A

220V/1500W/ 50/60HZ/12A

220V/1000W/50/60Hz/10A

220V/1500W/50/60Hz/12A

Packing Dimension(mm)

1620(L)x1100(W)x1110(H)

1700(L)x1100(W)x1130(H)

1700(L)x1100(W)x1265(H)

1950(L)X1280(W)X1690(H)

2195(L)X1380(W)X1810(H)

1620(L)x1100(W)x1110(H)

1700(L)x1100(W)x1265(H)

Gross Weight

380kg

430kg

490kg

600kg

750kg

380kg

490kg
This is Cheese Weigher, it's suitable for weighing soft and sticky material, such as cheese, jelly candy, candied fruits, and so on.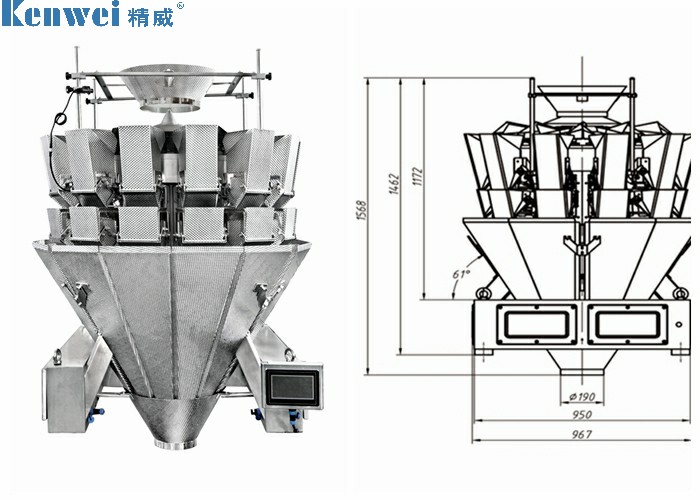 What is the difference between cheese weigher and standard weigher?
First of all, this main vibrate pan has been changed to the rotary pan, we using the rotary type because the rotary type is better for sticky material, prevents materials from sticking together, and the rotary speed can be adjusted.
The second is those linear vibrator pans. There is an angle here, it is inclined downward, and we have enhanced the amplitude, those designs ensure the smooth feeding of the sticky material.
On the other hand, this weigher use 60° dimple discharge chute, which can make it less sticky problems, the standard weigher is 84°, this is 60°.
OK, next. This is 14 Heads Screw Feeding Weigher. It's suitable for weighing sticky material, such as chicken, pork, duck, fish, beef, and so on.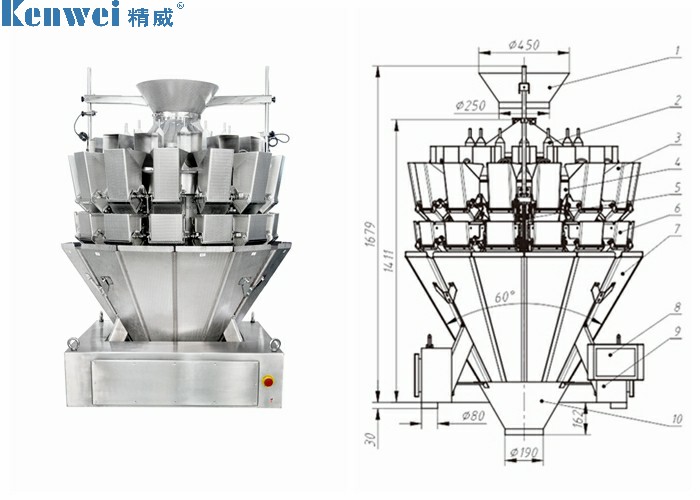 Mechanical character
1.Screw feeding to replace the traditional vibrator feeding, it's more suitable for sticky material.
2.Drying device for optional effectively prevents the electrical components from damage because of humidity.
3.IP65 waterproof machine frame, material contact part with dimple plate, 60° discharge chute. Max speed 50 packs per minute, 2.5-liter hoppers, 10-inch screen, bigger than the standard one. We have many other models for different material, too many, I will introduce them next time.
Now, let's go to see other machines. The second-generation Linear Weigher, our linear weigher has 1 head, 2 head, 3 head, and 4 heads, this is 2 head.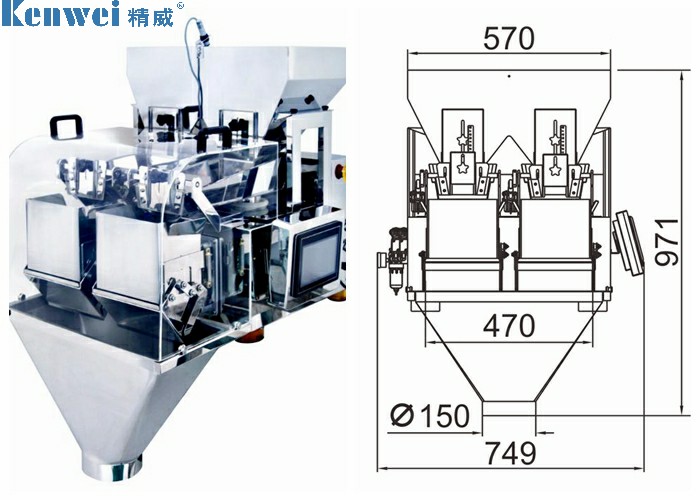 It is suitable for weighing granule material and powder such as sugar, salt, seeds, rice, milk powder, coffee powder, and so on.

Features
1.Grand a new modular control system.
2.Amplitude can be adjusted automatically.
3.Make mix different products weighing at one discharge.
4.Also easy to install and disassemble 4.5-liter hoppers, max to 3000gone time, 30 packs per minute
First Generation Check Weigher
Features
1.Intelligent construction, auto program setting for easy operation.
2.Production records in details.
3.PLC control system with the industry touch screen.
4.Optional Reject Method.
5.You can choose to install a Collection device,of course. Metal Detector, the standard has no reject device, if you need, we can also install for you, just like check weigher. You can also install a Warning light, when detecting an unqualified product, the light will turn to red light from green.

Throat Metal Detector I like this one, if you want to detect a product before packaging, this would be a good choice, install between weigher and vertical packaging machine, when detect unqualify product, will give a signal to the packaging machine, or you can choose to install a reject device, just like timing hopper, two sides, qualify product, this side, unqualify, another side.