In 2020, through the election of the 7th Council of China Food and Packaging Machinery Industry Association, Guangdong Kenwei Intellectualized Machinery Co., Ltd. stood out among many enterprises and was honored as the "Executive Director Unit" of the 7th Council of China Food and Packaging Machinery Industry Association.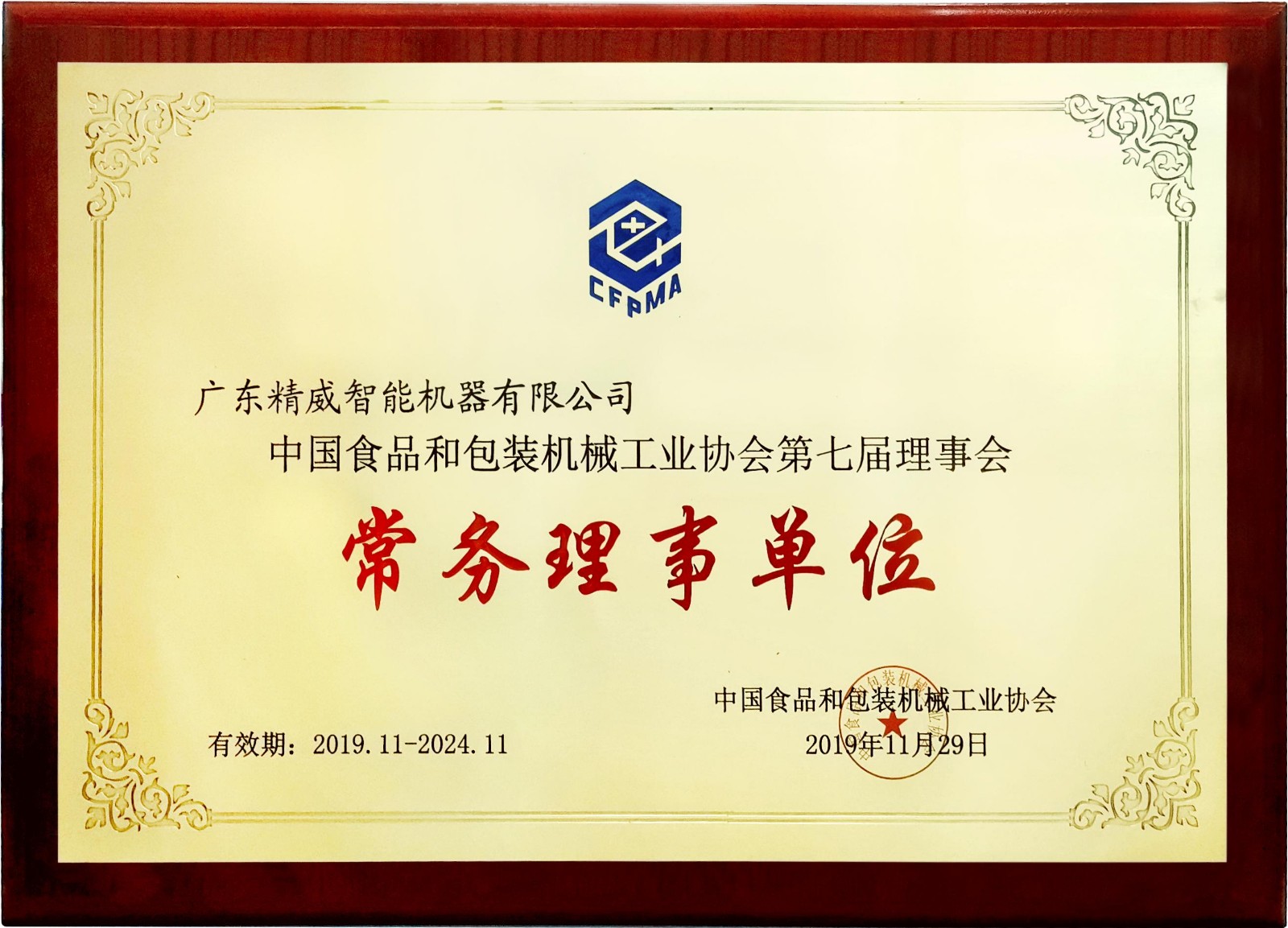 China food and packaging machinery industry association (English abbreviation for CFPMA) is approved by the ministry of civil affairs of the People's Republic of China the national social organizations registered with headquarters and standing bodies in Beijing.CFPMA is composed of cross-sectoral, cross-regional food machinery and packaging machinery manufacturers, companies, research institutes, colleges and universities, news media, local community voluntarily organized national industry group, has the corporative qualifications of the social group.CFPMA is an international alliance (C.O.P.A.M.A.) packaging machinery association member, with the United States, Britain, Germany, France, Italy, Japan, and South Korea, Spain, the Netherlands, Switzerland, the Czech Republic, Russia, Australia, and other 13 countries in the same industry association established bilateral or multilateral relations of cooperation.CFPMA existing group members more than six hundred, consists of institutions are packaging machinery committee, food machinery professional association, the committee of experts, meat processing machinery professional committee, potato food processing machinery professional committee, paper pulp molding machinery, and products branch, cold food machinery, paper container machinery association, convenient food machinery, beverage filling machinery association, fresh-keeping, and processing machinery branch, vending machine branch, etc.   
Guangdong Kenwei Intellectualized Machinery Co., Ltd., as a global professional manufacturer of intelligent weighing and packaging equipment, has now developed into an internationally renowned manufacturer of the automatic quantitative combination weighing equipment and has won the industry and consumption with its large production scale and wide influence. The affirmation of the person. The company's products mainly include combination weigher, multi-head weigher, linear weigher, check weigher, metal detectors, counting machines, manipulators, packaging machines, packaging auxiliary equipment, etc. The annual production of various scale products exceeds 7000 sets. Products are widely used in food, medicine, chemicals, hardware, daily use, etc. Keep improving product quality, honest management, and mutually beneficial business purposes have won the cooperation and trust of nearly 1,500 customers in more than 100 countries and regions around the world, and continue to improve economic benefits for our customers.    
This appointment is not only the industry's affirmation and recognition of the development of Guangdong Kenwei but also a kind of responsibility and spur. It will encourage Guangdong Kenwei to pay more attention to technological innovation, management innovation, service innovation, rely on high-tech, and standardize operations. Deeply cultivate the field, strengthen R&D and continuous innovation, so as to further enhance the core competitiveness of the enterprise market, continue to explore more domestic and foreign markets, and actively promote the vigorous development of the industry!