Economic vertical form fill seal packing machine(VFFS), a variety of models economical vertical packaging machine frame is adopted 304 stainless steel material, equipped with the door security protection function, apply to the bag type has a pillow bags, Angle belt, printing bag, triangle bag type, suitable for all kinds of packaging materials, such as all kinds of leisure food, frozen food, coffee beans, oats, sugar, salt, rice, small hardware accessories, etc., affordable, cost-effective.
JW-E Series Economic vertical packing machine
Application:
◎Applicable bag type: Pillow bag, Gusset bag, Seal type bag。
◎Applicable film materials:A variety of laminated films,single-layer PE film, film thickness range 0.04mm~0.15mm。
◎Applicable packing materials: A variety of recreation food,deep-frozen food, milk powder, coffee,oatmeal, granulated sugar,
salt, puffed food, rice,herbal, tea,small hardware, etc

Feature:
1.Automatic alarm and warning function by PLC.
2.Bag making: Making bag automatically by bag make machine, the layout type of bag making is vertical, the collar type is concave convex point flanging collar.
3.Horizontal Sealing:Servo motor is Horizontal seal sealing dynamic sealing bar heating type is continuation heating,the sealing temperature is the constant temperature. horizontal servo with cooling and blowing function,shut down when clamp materials and motor swing angel protection function.
4.Vertical sealing:cylinder is vertical seal sealing dynamic,standard vertical sealing is clamp seal,the sealing bar type is heat continuation,
temperature control is constant temperature.
5.Film pulling:The type of film pulling is Vacuum Synchronous belt double,the dynamic of film pulling driven motor,the cone gear drive form,film oulling parts
equipped with manual transfer switch for better adjustment.
6.Film releasing:It adopts motor drives robber roller,film release adopts and controlled by three speed.Equipped with coding adjustment,eye mark tracking,
rectify deviation adjustment,film transporting antishake,no film alarm,store film detector,Film release brake,pneumatic film pressing function etc.
7.Frame:Assembly frame blue perspective plexiglass door,special electric tank fission rotating human-machine interface.
Equipped with auto-stop when open the door protection function.
Specifications: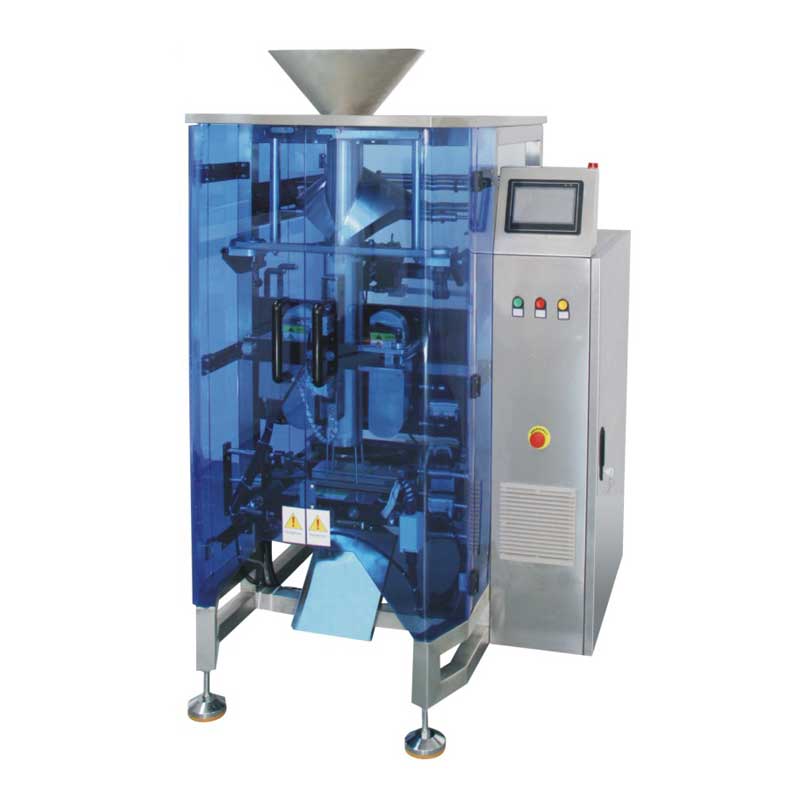 Optional device:
| | |
| --- | --- |
| Gusset device | Nitrogen charging device |
| Chain bag | vibrating device |
| Punching device | Sealing device |
| Exhaust/Inflatable devices | Easy tear device |
| PE film sealing | Bag support device |
| Anti-Static electricity | Evacuating device |
| Horizontal seal cooling blowing device | Film rectify deviation adjust device |
| Automatic feeding device | |




Common related equipment:
| | |
| --- | --- |
| Multihead weigher/Liner weigher | Cup measuring machine |
| Auger filler | Liquid pump |